CLUBS AND SOCIETIES
There are a number of clubs and societies in the area, catering for all age groups. Are you are a parent or grandparent looking for activities suitable for children and young people? Look at our YOUTH SECTION Do you run an activity and want to list it here? GET IN TOUCH
SPORTS AND SOCIAL
AURIOL BOWLING CLUB
Founded in 1967 with 100 members, including Life and Social members, across the men's and women's sections. The club plays between April and September, and has a full list of fixtures - both League and friendlies - against other clubs in the area. See the ABC WEBSITE for more details.
WANDGAS CRICKET CLUB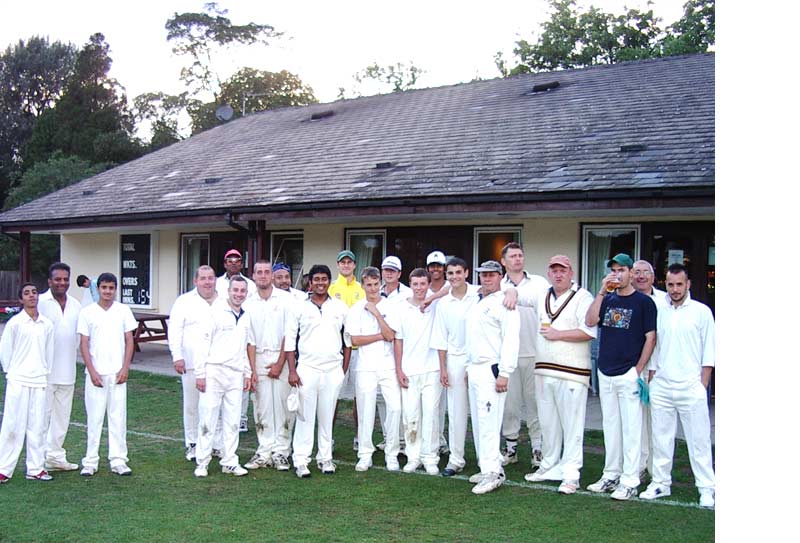 Wandgas CC are very keen to recruit new players! Outside the season Wandgas CC hold winter nets for adult players at Epsom College, 18.00 – 19.00 every Wednesday and welcome all abilities. There are plans for a 3rd XI going on Saturdays and there will be regular Sunday friendlies and T20 matches on Friday nights.
PLEASE SEE THE YOUTH ACTIVITIES SECTION FOR JUNIOR CRICKET
There is an website run by the ECB which is commonly used by all clubs and leagues in the country. It is an excellent means for listing fixtures, results and all the statistics cricketers enjoy! Please look at PLAY CRICKET SITE
54TH OCA CRICKET CLUB
The 54th OCA CC plays on Sundays in season, using the Wandgas Sports & Social Club as our home ground. We are a friendly club with diverse membership, and are always on the lookout for new players. Please find out more from our WEBSITE alternatively contact our Captain, Gary Cunningham directly on 07738 585 419
WANDGAS FOOTBALL CLUB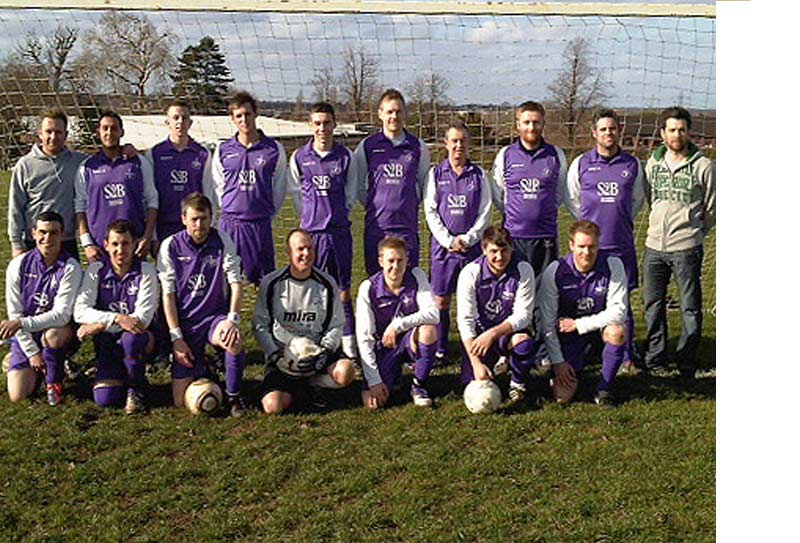 Wandgas FC is situated in the Cuddington area of Worcester Park, Surrey and is home to football teams for Boys, Girls, Men and Women of all ages including veterans. It is an FA Community Standard Club playing in a variety of leagues ranging from the Surrey Youth League for our young players to the Kingston & District League Premier Division for our Saturday 1st team. There is lively and enjoyable social club as well as cricket teams and coaching throughout the summer months. MORE...
WANDGAS SOCIAL CLUB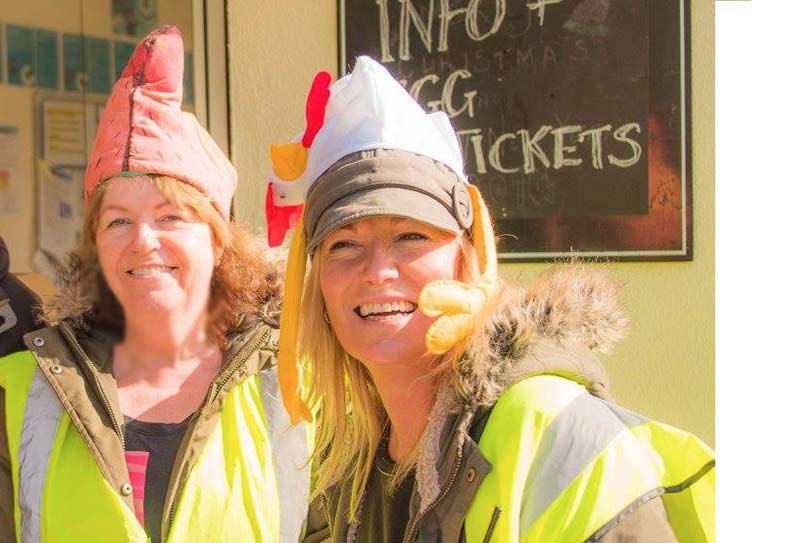 Lively Bingo, Quiz Nights, family parties (Easter - Halloween - Christmas) and a great place to enjoy the summer months - you can't beat a sundown pint with the last few overs during the cricket season! (WEBMASTERS TIP - I'm a nature nut and love to watch the wildlife that visits the field on a summer's evening!) Drinks are sold at member rates. See the club FACEBOOK PAGE for upcoming events.
The picture shows Mel and Kim (yes, really) taking names for the Easter Egg Hunt in 2016. We like to put our names down for these things...anybody who is anybody wears a chicken hat after all!
THE CUDDINGTON WOMENS' INSTITUTE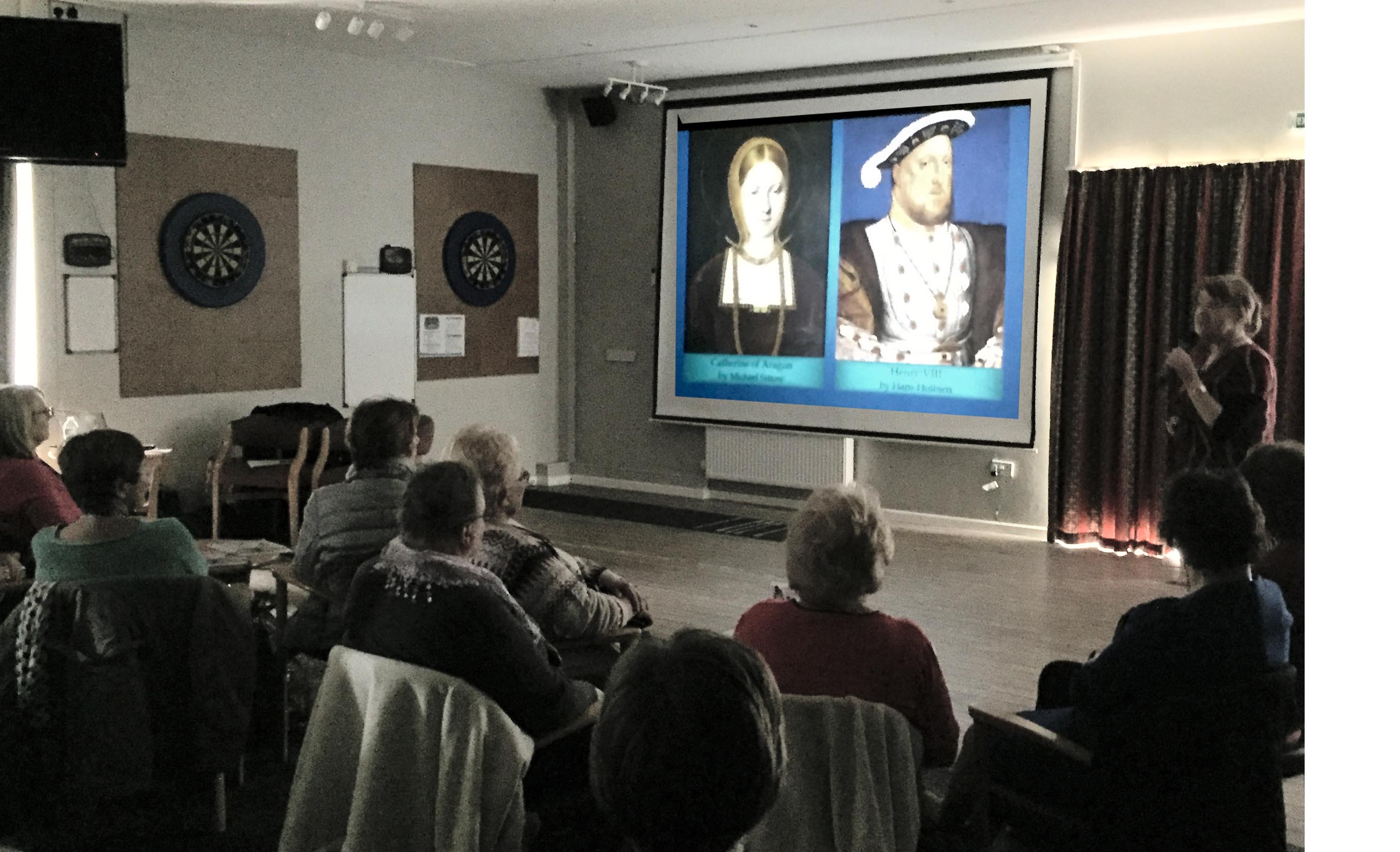 Pictured is a guest speaker - Cuddington resident Siobhan Clarke from Historic Royal Palaces, Hampton Court, talking about the history of Royal Babies. Over 50 ladies enjoyed her presentation and extensive knowledge.
The knitting club have created over 50 jumpers and hats to go to new born babies in Malawi, Africa and bonnet hats for premature babies. CUDDINGTON WI WEB
MUSIC & THE ARTS
EPSOM & EWELL ART GROUP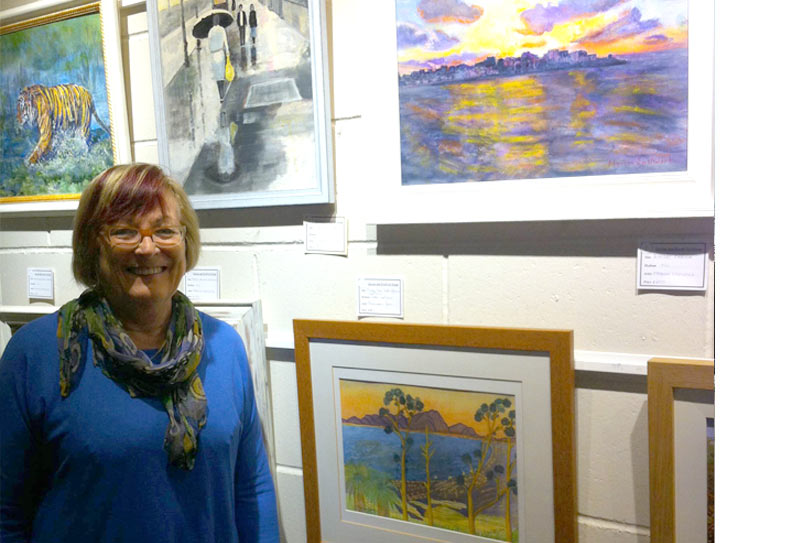 Cuddington artist MAUREEN JONES is featured at Epsom and Ewell Art Group Spring Exhibition, Denbies Vineyard, Dorking, during March.
Epsom and Ewell Art Group meet at Bourne Hall on Wednesday evenings for demonstrations and talks, one afternoon a month in Ewell to paint together and in the summer months to paint outdoors. WEBSITE
EPSOM & EWELL SILVER BAND
The band has players from 14 to 80 at the moment. Younger players are welcome if they are of a good enough standard (at least grade 5 standard minimum). They rehearse on Monday and Wednesday nights from 8pm to 10pm at the band room in Horton Country Park, Epsom, KT19 8PL.
Please contact them first to make sure there is a rehearsal scheduled
Please see the EESB WEBSITE for more details.
EPSOM HEART & SOUL CHOIR
Just turn up and sing! No experience needed and all age groups. WEBSITE
HORTICULTURAL & FARMING
EPSOM AND EWELL BEEKEEPERS, EWELL VILLAGE
IF you haven't tasted the delicious Upper Mill Honey, you haven't lived! The beekeepers offer courses, talks, lectures and produce for sale. WEBSITE
VOLUNTEERING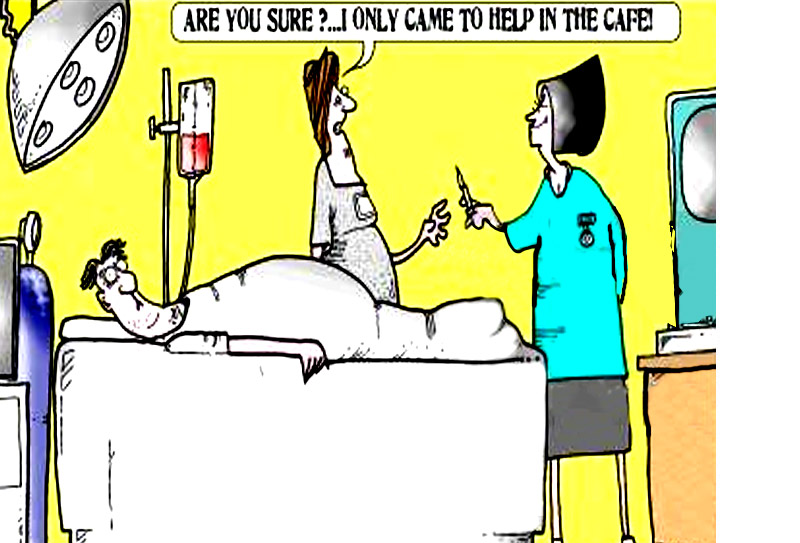 Making time to volunteer is a big ask. We are busy with family and work with so little time to spare.
If you can find time - and it doesn't have to be regular (just half an hour transporting a table for a charity event for instance) - it will be greatly appreciated.
Volunteers in Cuddington thoroughly enjoy what they do - and here's why:
PETER HARDING overcame a brain injury at 15 to become National FA Volunteer of the Year in 2016. He received his award from Ryan Giggs at Wembley: "Being part of Wandgas FC has not only shaped the person I am, but has allowed me to give back to a team that has done so much for me."
AN ANONYMOUS VOLUNTEER says that he has volunteered in the community for 70 years. He is modest by nature so preferred not to be identified; we are very lucky to have him as a neighbour!
OUR ROAD REPS are volunteers - what would we do without them! Everybody who gives time to the CRA - writing articles, maintaining our social media links, publishing the magazine, tending the parks, helping our youngsters get the best out of their free time, arranging social events - make this place what it is.

As I add to this list (I'm a volunteer webmaster and I don't see it as work even though I do this sort of thing every day!) I'm looking forward to the next event and meeting up with the people who make it all possible.
PLEASE LET US HAVE YOUR VOLUNTEER STORIES! You can remain anonymous - we particularly enjoy the funny ones!
YOUTH ACTIVITIES IN CUDDINGTON
YOUTH CRICKET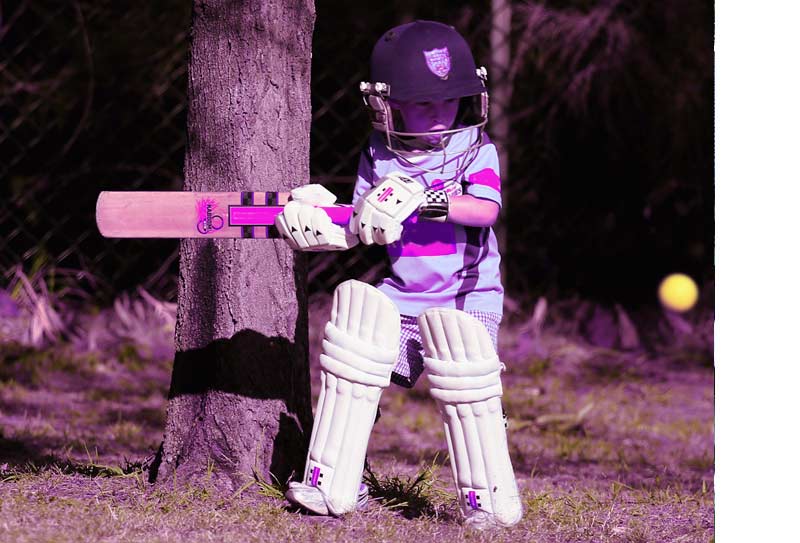 Wandgas Cricket Club is an Allstars Cricket Centre. This initiative by ECB is to attract 5-8 year olds to cricket. We have Youth sessions every Thursday night from the first Thursday in May 6.00pm at the ground - ALL WELCOME! Please contact CHRIS HOWGATE on 07812 635726.
FOOTBALL FOR ALL!
Footballers Aged 7-Adult - Male and Female. Come and join us at WANDGAS SPORTS AND SOCIAL CLUB for great fun every SATURDAY 10.30am -12.00pm! The training delivered by FA qualified coaches for players aged 7-adult with a disability or special educational needs (SEN). To confirm your place on this training session please contact: Dennis Jones 020 8393 7236 or 07946 658192.
PAY AS YOU PLAY FOOTBALL - EVERY SATURDAY!
WANDGAS SPORTS AND SOCIAL CLUB: an opportunity for Reception, Year 1 & Year 2's to join in the football fun with no long term commitment for the parents. Allows young players to develop their basic skills in a relaxed and friendly environment where they can bring their friends or make new ones! Parents - enjoy a cup of tea or coffee and a chat knowing your child is in safe hands with FA Community Standard coaches. First session is free, all sessions are £5 per visit. 020 8337 3666.
CHILDRENS' ACTIVITIES - STONELEIGH LIBRARY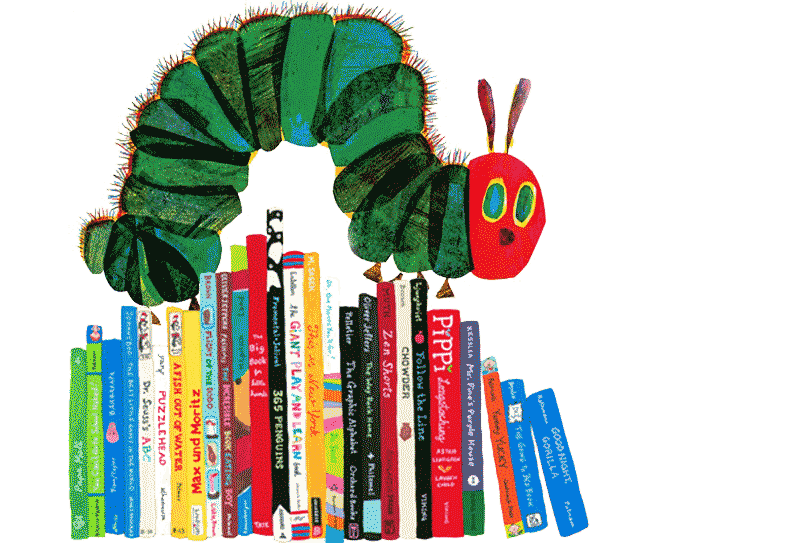 Rhymetimes on Friday: 14:00 - 14:30 and Saturday 11:15 - 11:45
Monday Storybox 10:00 - 11:00
More details including school holiday/seasonal activities can be found at the LIBRARY WEBSITE
2nd CUDDINGTON SCOUTS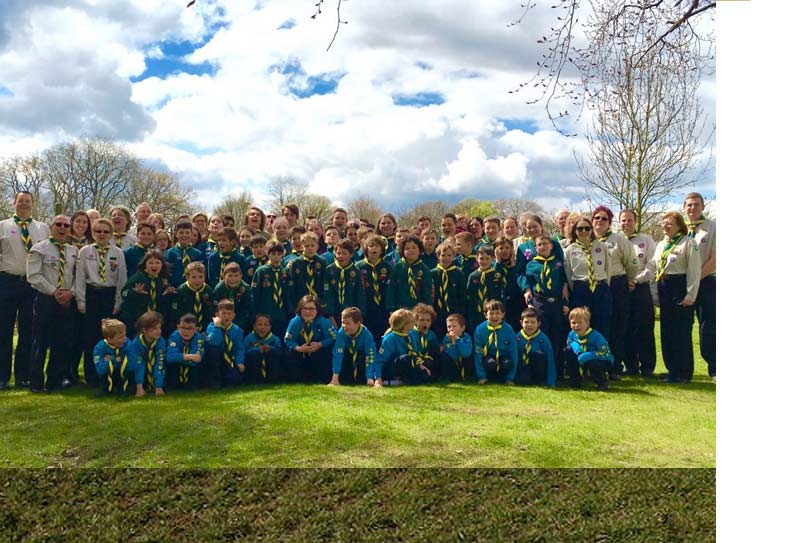 Based at Rowe Hall in Salisbury Road, we provide new experiences for young people between the ages of 6 and 25 in our five co-educational sections. Our varied programmes of indoor and outdoor activities coupled with a trained and experienced leadership team mean that we can offer our young people the support and encouragement they need in a safe and enthusiastic environment. WEBSITE
1st CUDDINGTON (WARSPITE) SEA SCOUTS
Based near Stoneleigh in Surrey, is for boys and girls from 5 to 18. As a Sea Scout group we not only offer the great opportunities of traditional scouting, but also extensive experience in a variety of water activities, and we are generally recognised as being one of the top 5 groups in the country out of the 100 officially recognised by the Royal Navy. WEBSITE
CUDDINGTON (EPSOM DIVISION) GIRL GUIDES
Cuddington District – part of Girlguiding Epsom Division - is located on the border of Stoneleigh and Worcester Park based around St. Mary's Cuddington Church Hall and a local school. We have 1 Rainbow Unit, 3 Brownie Units and 2 Guide Units – meeting on Mondays, Wednesdays, Thursdays and Fridays. WEBSITE
---
© CRA. DESIGNED BY THE POINT DESIGN PARTNERSHIP